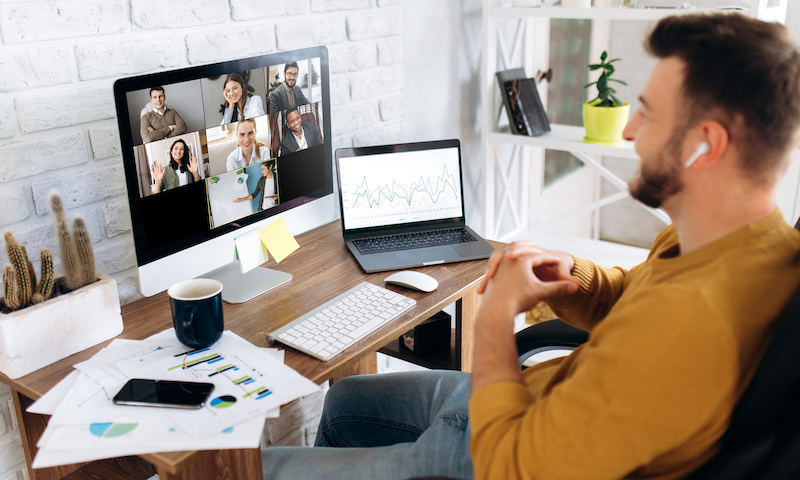 These past few weeks have been fraught with uncertainty, changing information, and a lot of bad news. The COVID-19 crisis has left many businesses and professionals reeling from revenue and income loss, trying to figure out what to do next. While there is so much we don't know right now, we do know relationships are vital in the business world. Social distancing has made maintaining and strengthening relationships hard but thanks to technology, not impossible. Here are 10 ways you can strengthen your professional relationships virtually and build positive connections in the midst of a crisis.
Invest in a Video Conferencing Platform. Working from home is becoming many Americans' new reality, and most meetings have moved online! Zoom and GoTo Meeting are excellent options if you can afford to pay a regular subscription (both have monthly payment subscriptions for less than $20/month). Because of the high-quality video and ability to add multiple invitees, these platforms allow you and your team to feel as though you are meeting clients in person. An added bonus is that invitees have the option to connect to the meeting by calling a US phone number in case they are not able to connect from their laptop or phone. Zoom also has a free option that allows you to video chat with three or less people for an unlimited period of time and more than three attendees for up to 40 minutes!
Acknowledge the Struggle. Don't pretend everything is business as usual. Your communication should acknowledge the current crisis. It's ok to not have all the answers. Remember, this is a really big deal and a tough time for everyone. In that vein, when you connect with clients, colleagues, friends and business contacts, ask how they are, listen and think of ways you can serve them or add value. Many people are facing the same or greater challenges than you are. Connecting with them and acknowledging their hardships are enough to strengthen your relationship.
Reconnect with Past Contacts. Use this opportunity to connect with people, with whom you'd like to re-engage. Since most people are home, with less activities, they might have more time and desire to connect with people in their network. And since this crisis affects us all, you'll immediately have a common topic which allows you to ease naturally into a conversation.
Adjust your Online Content. If you have a content calendar or automated social media posts, adjust your content to make it more relevant to the current environment. Launching a product and selling services requires different messaging during a crisis. Consider what your audience might be feeling right now and what you can do to encourage, support or serve them.
Put a Face to Your Name. Many people are craving connection with others right now. Add your photo to your email profile and to your email signature so contacts feel like they are interacting with a real person, rather than a computer.
Turn on Your Camera. As much as possible, turn on your video during virtual calls so people can see your face. Instead of email, give your connections a call so they can hear your voice. Conversing over video or on the phone affords you the ability of a more personal interaction. Many people are looking for opportunities to engage and value personal connection over efficiency.
Be Aware of Your Nonverbal Communication. Remember the importance of body language and nonverbal communication when you are videoconferencing. Nonverbal signals can be up to 65%-93% more impactful than verbal communication, since they give context to what you are saying and provide meaning. Pay attention to your hand gestures, posture, and inflection in your voice.
Stay Positive. Regardless of the medium you use, stay positive. Don't get sucked in to venting and complaining. You can acknowledge hardship and empathize with others without spreading negativity.
Look for Ways You Can Help. Businesses are struggling and people are hurting right now. Look for ways you can help and comfort those in need. Can you support a small business, introduce someone in your network to another person who can help them, offer a service or consult for free? If you are in a position to make someone's day a little better, do it.
Make Yourself Available. Be available as much as you can. Take unscheduled phone calls, encourage people to reach out to you, set up a Zoom call to collaborate with partners or colleagues in your industry, and spend a few more minutes on the phone or in meetings learning about your contacts.
It's hard to move forward in the midst of so much change, but one thing that remains constant is the importance of strong relationships, in business and in life. Using this time to strengthen your relationships is one endeavor guaranteed to pay off.