LinkedIn is the world's largest professional networking site with 400 million members in more than 200 countries. Eight five percent of fully-employed professionals on the network are open to new job opportunities in some capacity, meaning you have a huge pool of qualified candidates. In a post last month, we discussed how recruiters can maximize a free LinkedIn account, as well as a few of the paid options. Today, we'll discuss the granddaddy of the paid options: LinkedIn Recruiter. It allows you to view, search for and reach out to ALL of the top talent available on the network. It's a big investment, but if you know how to use it effectively, it's worth it. Here are five ways you can maximize your Recruiter subscription and ensure your investment pays off:
Define The Job(s)
Draw people in. A well-written job description should result in up to fifty relevant talent matches for every job description used. Just giving someone the bare bones requirements and skills needed are not enough. Try appealing to several aspects of a person's goals and how they would benefit from the job. For example: Sprout Social advises creating job descriptions based on emotional connections such as:
Professional benefits
Social benefits
Emotional benefits
Self-image benefits
Good job descriptions tell a story. They connect candidates to the positions, the company cultures and their futures within those companies.
Search The Network, Be Active, Use Your Tools
This tip is incredibly easy and only consumes 10 minutes a day at most. Use all of the tools that LinkedIn Recruiter has to offer. Frequently make sure to edit and filter search options for recruitment purposes. With the LinkedIn Recruiter Corporate Edition subscription, you can filter your searches by education, company size, industry, years of experience and a few other advanced options. This lets you find the ideal candidates among the 400 million plus profiles you have access to. Don't forget about the very helpful aspects of LinkedIn such as, similar profiles, people also viewed and people you may want to hire. Remember to respond to InMail (you get 150 InMails per month with Recruiter) replies promptly, even if you end up finding a better candidate for the position. Keep an open dialogue and contact potential candidates who can also offer referrals or trustworthy leads. The dialogue and relationships you create are 10 times more valuable than the filters and profiles you can access.
Recruitment Ads Help
Entrepreneur.com believes that recruitment ads play an important role in reaching actively seeking candidates and even candidates who are open to change by placing the opportunities in front of members. Recruitment ads are the job banners you see in the left sidebar of your LinkedIn homepage and throughout the website on various pages. Entrepreneur's site also states, "the ads use the same proprietary ad-targeting algorithm as other LinkedIn advertising options and ensures your ads are shown only to the appropriate potential candidates." LinkedIn Talent Solutions explains the benefits of using recruitment ads as well in the box below. Give the ads a shot and watch your inquiries increase.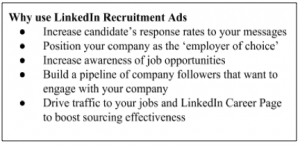 Though ads are not included, they are a nice compliment to the Recruiter subscription. LinkedIn offers bundle pricing to subscribers and claims, "Our recruitment ads dramatically outperform typical banner ads with up to 50 times higher clickthrough rate, driving interested professionals to your jobs and career pages."
Use Different Angles
You already know about using your advanced filters, but did you realize that there are several ways to search for the exact same thing? Neil Lebovits points out that most recruiters only use the "Keyword" field or the "Job Title" field without even using boolean and/or nested logic.
Understand the difference between the company free form and company pulldown options, then use them both as independent saved searches. Why? Neil says, "Keyword searches (whether through the keyword field itself, or via a free form entry field like "company name", are simply that. It will search for whatever you type. If you select a pull down (i.e. where you can't free form type, but rather have to select what LinkedIn suggests), it means that your candidates had to select these as pulldowns when they filled out their profiles. For example, their company name on their profile."
Another tip is to utilize a boolean/string to get all of the possibilities of the way that a job title may show up (i.e. Accounting Manager OR Assistant controller OR Asst. Controller or Acctg Manager or Acctg mgr), etc. Using different angles such as a great boolean like "NOT" (or "-") in job titles, and strong keywords search will increase the number of candidates that become available to you.
Publish Content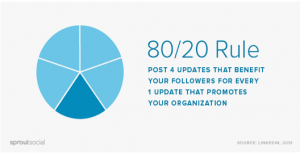 Build engagement and trust through content/status updates. Sprout Social and LinkedIn recommend following the 80/20 rule: four updates for the benefit of your followers, for every update promoting your company.
This creates a well-balanced stream of content that makes your company active, relevant, and always top of mind/feed. Sprout Social also mentions that pictures and videos tend to draw 75-98% more traffic as content and note that on average, companies that post 20 times per month reach at least 60% of their unique audience. Fresh, relevant and useful content and gives top talent another reason to engage with you.
While you don't have to have a LinkedIn Recruiter subscription to create engaging content, your subscription can help you target candidates based on the content they consume. A unique feature that LinkedIn Recruiter offers is algorithm-based candidate suggestions, which are created based on candidates' interaction with your content and other similar content. The more content you publish, the more data Recruiter can use to make candidate suggestions.
LinkedIn Recruiter is a game-changer. However, like any tool, the more knowledgeable you are about the features and how to use them effectively, the more you benefit.