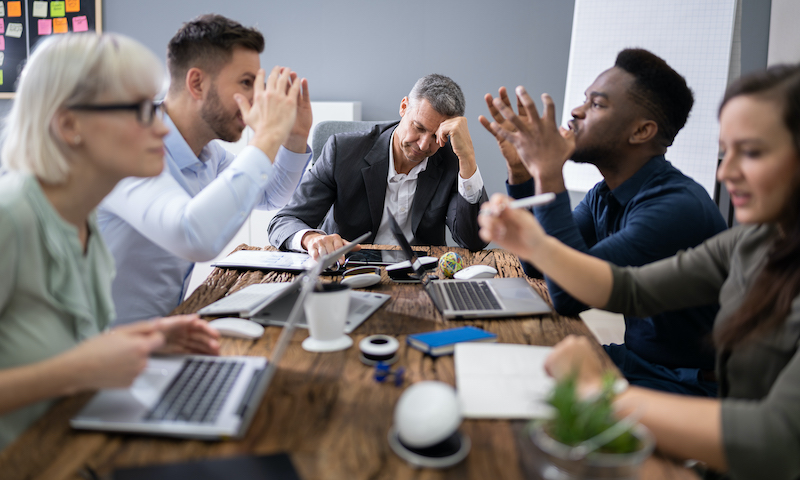 Stress is the rule, not the exception in the American workplace. Ninety-four percent of American workers feel stressed at work, while 64 percent report wanting to quit their jobs as a result of workplace stress.
When workplace stress goes unchecked, it can wreak havoc on relationships and productivity, creating a toxic work environment fraught with turnover and low morale. Because stress triggers are different for everyone, it's not possible to eliminate stress from your workplace. However, you help combat stress and improve your team's performance under pressure with these five tactics:
1. Good Communication: A major source of workplace stress stems from errors in communication. Thirty-three percent of workers have wanted to quit their job because they're so frustrated with poor communication. Communication issues trigger stress at both ends of the spectrum:
Over Communication: Many organizations – in a valiant effort to effectively communicate – use several communication platforms or deliver the same message multiple times, from multiple sources. This is frustrating and confusing for employees, especially when reading and responding to multiple messages on the same topic creates more, unnecessary work for them.
Lack of Communication: Lack of feedback is one of employees' top complaints about their managers. When people don't have the knowledge they need, productivity suffers and confidence crumbles. That affects their trust in the organization, and they may begin to withdraw and feel disconnected. Employees are happier and more productive when they're engaged and communication directly affects employee engagement.
Good communication, especially when it's one-on-one, fosters connection and builds relationships. Strong relationships, in which trust is established and feedback is encouraged, will help employees work as a team to solve problems and manage stress during difficult times.
2. Manager-Driven Recognition: It's important for team leaders or managers to recognize accomplishments, small steps, and extra effort when working under pressure to complete a project or reach a goal. A well-established employee study shows that 70 percent of workers care more about recognition than money. Recognition can be shown through incentives, such as rewards or bonuses based on results; or more informally, such as praise during a meeting, a handwritten note, or praise in front of peers or higher ups. Many organizations have adopted manager-driven employee programs, in which managers have the autonomy to recognize and reward employees within company-established guidelines. If executed correctly, these programs can be very powerful in strengthening manager-employee relationships. When pressure mounts and employees feel stressed, a manager recognizing hard-working individuals and teams can boost morale, alleviate stress and communicate they matter. When contributors feel appreciated, they are more likely to feel connected to the company, their work and each other.
3. Peer-to-Peer Recognition: Peer-to-peer recognition fosters high-performing teams. Recognition from peers increases team members' sense of belonging and helps managers spot areas of talent and competency within the team. Establishing a culture, in which peer recognition is encouraged, will help employees feel comfortable recognizing or thanking their peers for their contributions. Showing gratitude and appreciation for each other as a practice can alleviate team members' stress and encourage them to work together towards a common goal.
4. Clearly Defined Roles: Team members' roles and responsibilities should be clearly defined, discussed and agreed upon. Every team member should be aware of their own responsibilities and those of their teams. Unforeseen tasks come up in every project and getting them done can be a source of stress or tension for the team, but if each team member has a role, it's easier to assign the task or parts of the task fairly and to the right individual. It may help to have roles and responsibilities written down and accessible for the team to view. While it helps to assign roles, the team and manager should ultimately be invested in a common goal and willing to work together to accomplish it.
5. Camaraderie: Camaraderie is relationships created based on trust, understanding and shared experiences. Research shows that work friendships lower job stress and increase productivity. Camaraderie in a business setting provides workers with professional support that they can't get from their personal relationships. It energizes teams and helps team members deal with stress and performance pressure in positive ways. Encouraging team members to socialize and get to know each other can be enough to foster camaraderie. When developed genuinely and organically, camaraderie enables team to thrive in high pressure environments, depending on and working with each other to reach a goal that they all agree matters.
Stress can be detrimental to a team's productivity and individuals' mental and physical health. While it's impossible to eliminate stress from the workplace, you take steps to ensure your team doesn't crumble under it. The five tactics above all serve to improve workplace relationships because strong relationships are the key to a strong team dynamics and performance under pressure.